With Wonder Woman 1984, it seems as though DC has pivoted its own film strategy from serving as the MCU's darker counterpart to aligning more closely with the brand prototype of its competitor. The recent sequel to the 2017 film demonstrated a willingness to borrow certain aesthetics from MCU films, like its levity, color palette, humor, and stakes. But alas, even with these changes, the film was unable to capture another defining quality of its rival film series: critical success as defined by Rotten Tomatoes.
Wonder Woman 1984 picks up decades after the events of the first film; gone are the drab and dour surroundings of Europe circa World War I, replaced instead by the vibrant optimism of mid-80s America. When a mysterious wish-granting artifact called the Dreamstone turns up on Diana's desk at the Smithsonian, she and coworker Barbara Minerva try to piece together its secrets. But disaster strikes when ambitious oil businessman Maxwell Lord gets his hands on the stone and wishes to become the Monkey's Paw itself, allowing him to gain untold power by granting unwitting accomplices their most ardent desires. As the world is thrown into chaos, Diana must find a way to help the world realize the error of its ways and set humanity back on track.
Related: Why Doesn't Wonder Woman Fly In BvS Or Justice League?
With all its jokes and levity, Wonder Woman 1984 begins to more closely resemble an MCU film than its fellow DCEU predecessors. Since 2008's Iron Man, Marvel Studios has worked tirelessly to distill the essence of an MCU film, creating a repeatable, but nonetheless successful formula that anchors each new installment. When that formula lost momentum around the release of Thor 2, they revitalized the MCU brand with an instantly recognizable blend of humor, solid stakes, and a colorful atmosphere pioneered by James Gunn's Guardians of the Galaxy films and codified by Taika Waititi's Thor: Ragnarok. Meanwhile, the DCEU and Zack Snyder made their own plan: create a gritty alternative to the more optimistic world of Marvel superheroes. Alas, those efforts earn DC films the same commendation as their Marvel counterparts. Enter: Wonder Woman 1984.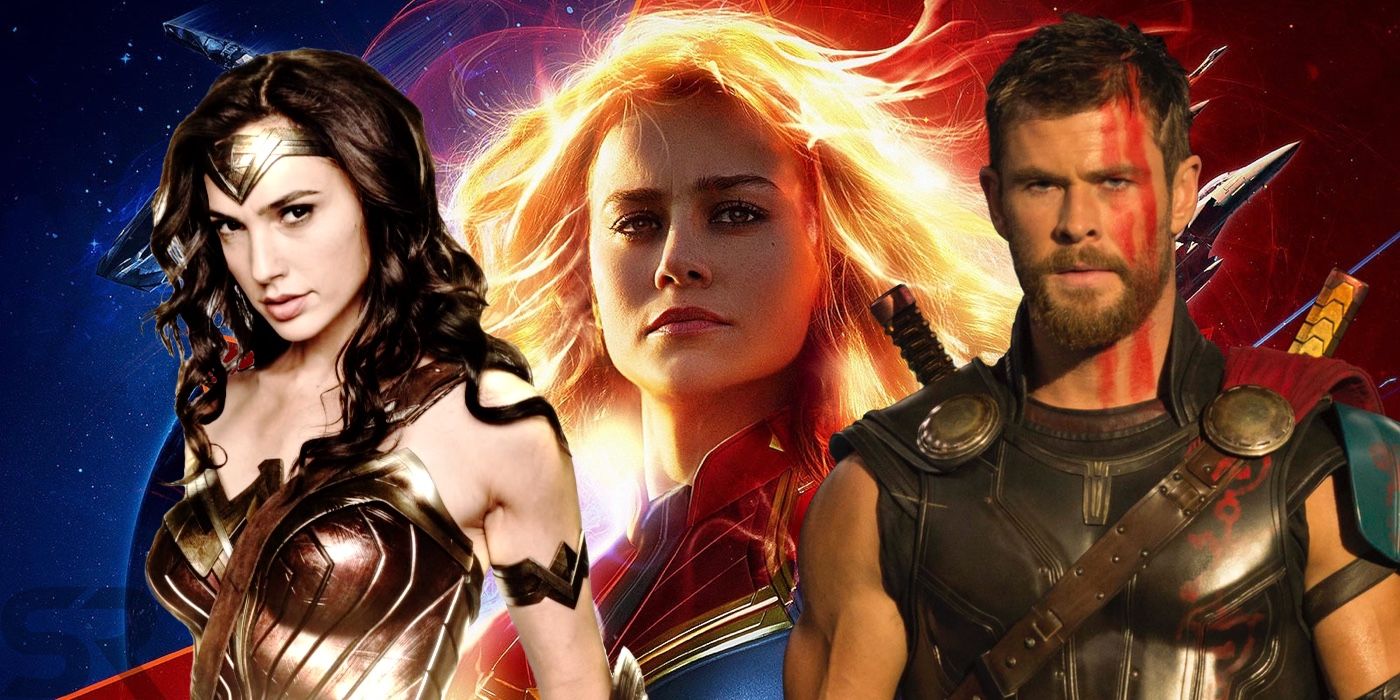 The 2020 DCEU effort adopts several tropes from the MCU canon. Diana is warmer and more relatable in the 80s having spent decades acclimating to the human world. In doing so, she becomes more endearing, as are many Marvel heroes who come from more ordinary human origins like Ant-Man or Falcon. WW84 also employs ample use of Marvel-esque jokes to add levity to an otherwise catastrophic story in which humanity nearly devours itself with hatred.
As for color, the vibrant visual style of Wonder Woman 1984 is one of the most direct ways in which the film stands out from most of its DCEU predecessors. Zack Snyder's darker color palette defined the look of his directorial efforts Man of Steel, Batman v Superman: Dawn of Justice, and Justice League, even bleeding into the 2017 Wonder Woman on which he served as a producer. But when these efforts to serve as the darker counterpart to the MCU earned tepid critical reviews, 2019's Shazam! steered DC in a more jovial, uplifting direction than its prior releases—a direction continued by Wonder Woman 1984,
But while this detour brought Shazam! critical acclaim, the same cannot be said for Wonder Woman 1984, whose unique release and subsequent reception failed to match that of rival Marvel films, as it barely clings to a fresh score a month after wide release. Is it entirely separate from its predecessors? No. Is it a carbon copy of the Marvel formula? Also no. It has a number of narrative flaws that detract from the story. But Wonder Woman 1984's adoption of certain characteristics from the MCU shows that the DCEU is determined to respond to the market and make films people want to see moving forward.
Next: Why Wonder Woman 1984 Lacking Big Action Was The Right Choice