It is time for the second episode of RuPaul's Drag Race UK season 2. Last week's episode ended with a major shock when one of the most well-known queens on the show was sent home first.
Joe Black went home last week and, as the queens re-enter the Drag Race Werk Room, they call it "the shock of the century." That's because Joe Black gave off the impression that they might go all the way in this competition. This season is clearly set up for some exciting twists. A'Whora says all the dolls thought Asttina would be in the bottom because she was wearing "an Asos discount jacket." A'Whora is being supremely annoying and rude this entire episode. It seems as though she is trying to serve the biggest gay version of Mean Girls. Lawrence Chaney and Ginny Lemon have a small catfight in the Werk Room and once again prove that British queens are much wittier and messier than American queens. The 15-second exchange between them has more laughs than any of American Drag Race so far.
Related: RuPaul's Drag Race UK Recap: A Frontrunner Gets Sent Home First
For the mini-challenge, the RuPaul's Drag Race UK queens are asked to vote on drag class superlatives. It is a bit cringe-worthy. Some of the categories are fun, but one of them is asking the queens who is the most "basic" of the group. When the queens drag each other in the reading challenge, it's specific and fun and to each other's faces. Asking them to rank each other anonymously is a little bit of high school trauma relived. Tia Kofi is voted as the most "basic" of the group, so she gets to choose the teams for the mainstage challenge. This week, it is a performance of Rats the Musical! This idea has already been done on Hey Arnold! but it is fun nonetheless. Lawrence Chaney breaks down during rehearsal and starts crying because she is not used to being out of her comfort zone. The other queens are very supportive and the choreographer helps Lawrence through this moment of self-deprecation. It's very beautiful to see a stage full of queer men lifting each other up.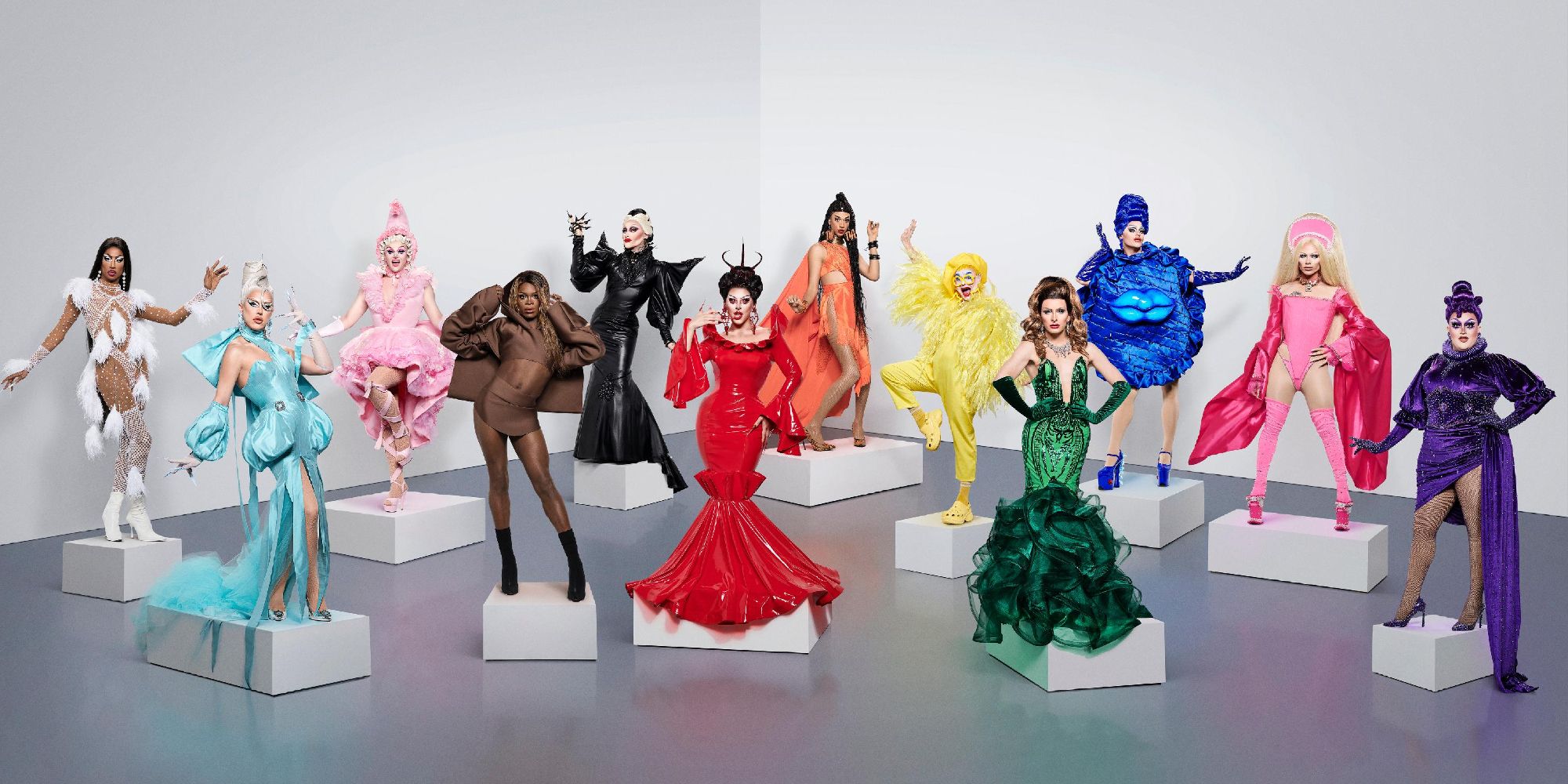 In Rats the Musical, Tayce and Ellie Diamond slay in rehearsal and then absolutely bomb onstage. Their performances garner a cringe reaction (or should we say re-frack-tion) from RuPaul. Veronica Green, on the other hand, absolutely, kills this challenge. She looks more gorgeous than she has ever looked, she sounds incredible and she has undeniable charisma. The queens were really underestimating her and now they are Green with envy. The other stand out in the challenge is Tia Kofi, who is hysterical in the Grizabella role. The runway category this week is… "Surprise, surprise"! A'Whora struts out in a very sleek groom lewk that turns into an absolutely sicking bridal gown. She nails this assignment. Lawrence Chaney has a fun little plaid reveal. It's not the best. Tia Kofi's first lewk is so odd but she goes from wearing almost no clothes to fully dressed. The judges hate it so much that RuPaul implies that it is literally poop. Sister Sister once again really fails on the runway. More like, oh, brother. Veronica Green walks out in a Stepford housewife lewk then turns into a full robot. It is very, very smart. Tayce looks so stunning, but the judges rightfully critique her for relying on sex appeal.
The winner this week is Veronica Green. The queens give her a huge round of applause. She shocked all of them and many of the fans of RuPaul's Drag Race UK. The bottom two are Cherry Valentine and Tayce. The lip-sync to "Memory" from Cats. They are both fairly lackluster, but Tayce brings more to the party. Cherry Valentine is asked to sashay away.
More: RuPaul's Drag Race Recap: Tamisha Iman & Denali Steal The Show
RuPaul's Drag Race UK season 2 airs Thursdays at 11am PT / 2pm ET on WOW Presents Plus in the US and select territories worldwide, day-and-date with its airing on BBC iPlayer in the UK.