Resident Evil Village is one of 2021's most anticipated titles and it's partially thanks to its tall vampire antagonist, Lady Dimitrescu. The vampire has gained a notable following online in the wake of the reveal that she towers over the player, and not just because of her high heels. The character apparently measures to be about 9'6″, making her a promising NBA draft star if she abandons the whole blood-sucking trait.
The character also appeared in the recent Resident Evil Village demo exclusive to PlayStation 5. The demo ends with Lady Dimitrescu attacking the player with her sharp claws, giving her yet another extreme advantage over the player. The character spawned a lot of social media attention, with people wanting to be stomped on by her or other remarkably sexual things. The thirst for this character has been one of the driving forces for the game in recent weeks.
Related: Who RE8's Tall Lady Is Talking To On The Phone
In an interview with IGN, Resident Evil Village Art Director Tomonori Takano spoke about the titanic Lady Dimitrescu. The character came as a result of wanting to find new ways to scare players as Capcom felt zombies may not be as effective anymore. Early on, Capcom made the decision to focus on new kinds of "evil" similar to the approach of 7. "In the early stages of planning, we decided on going with [a] castle and vampires motifs," says Takano. "However, we did not want to be constrained by how vampires have been portrayed in various forms of popular entertainment."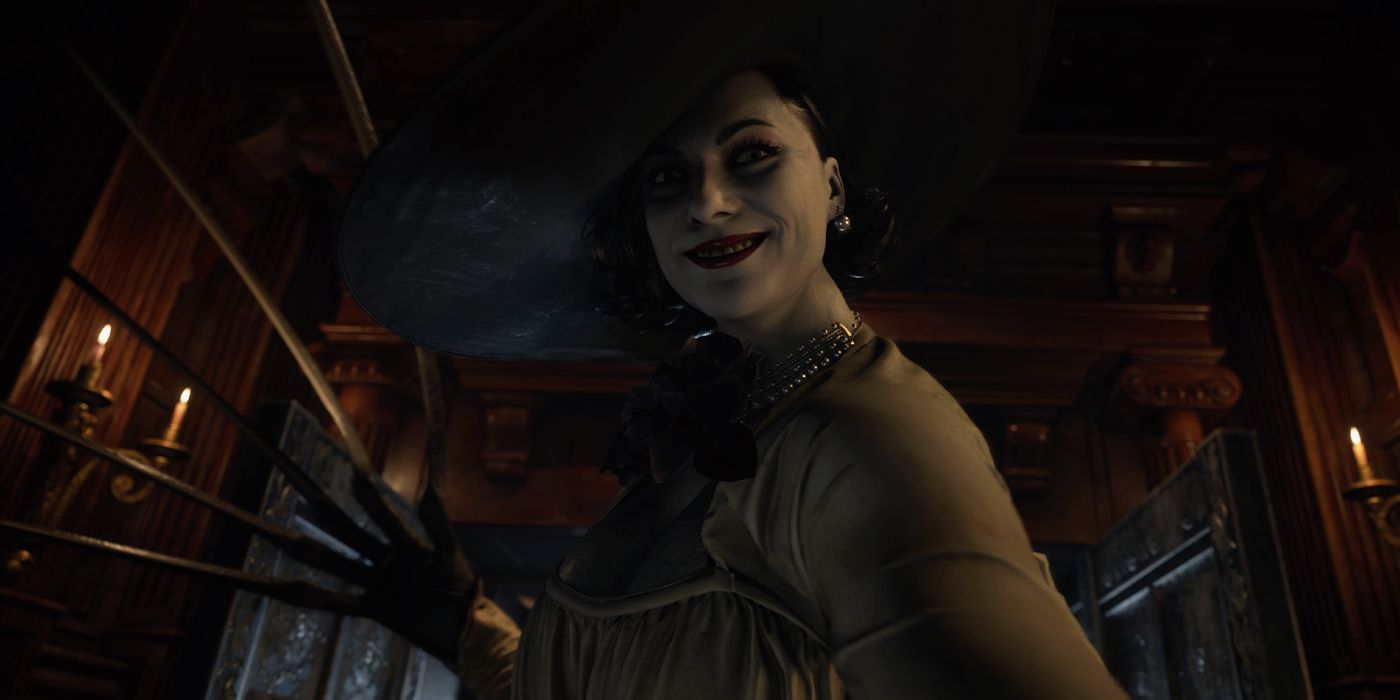 Capcom drew inspiration from people across a variety of time periods and locations such as Morticia Addams from The Addams Family as well as 16th-century Hungarian noblewoman and serial killer Elizabeth Báthory. Takano also noted the team was quite surprised at the incredibly intense reaction to the now iconic vampire. "I don't think anyone [on the team] could have predicted how wonderfully fans have reacted to Lady Dimitrescu," says Takano. "Personally, I was particularly struck by comments like, 'I want to be chased by her."
Resident Evil Village will release in just a few months, with another demo sometime before launch on multiple platforms. Whether or not Lady Dimitrescu is just a minor antagonist in the game remains to be seen but it would be a shame if she only has a small amount of screen time, given the incredible fervor surrounding the character. Maybe Capcom will give players some DLC to build on the character, similar to the Resident Evil 7 expansions.
Next: Resident Evil Village Ending Spoilers & More Have Leaked Online
Source: IGN
Resident Evil Village will release on Xbox One, Xbox Series X/S, PlayStation 4, PlayStation 5, and PC on May 7, 2021.