With a premise centered on the inspirational power of music, it makes perfect sense that the soundtrack for new Pixar film Soul is a celebration of jazz. The return to form for the esteemed studio features plenty of classic tunes of the genre to bolster Joe Gardner's passion for music. Whether jazz standards, jazz rap, or other styles altogether, the soundtrack assembles a formidable collection of music to underscore a heartfelt Pixar story.
Soul, available on Disney +, tells the story of Joe Gardner, a middle-aged jazz musician who teaches middle school band while trying to make it in the competitive New York City gigging scene. Just when it appears he may have finally gotten his big break, he takes an unexpected detour to the You Seminar: a place where new souls are developed before joining the mortal plane. With the help of some unlikely friends, he struggles to make it back to Earth to fulfill his dreams of playing with the esteemed Dorothea Williams and becoming a successful jazz musician.
Related: Soul: All Easter Eggs & Secret Pixar References Explained
Of course, as Joe is so passionate about music, the vibrant jazz culture of New York City makes a prominent appearance underscoring the film. The music team Pixar assembled features some all-star talent: Jon Batiste (of The Late Show fame) worked to compose songs that paired with a score from veteran film composers Trent Reznor and Atticus Ross (The Social Network, Mank), and The Roots' Questlove served as a music consultant on top of his voice role. The soundtrack features many standards, jazz tunes in the standard repertoire of most professional players, as well as other songs from A Tribe Called Quest to Bob Dylan. There are even a few tracks recorded exclusively for Soul. Here are all the songs featured:
"Things Ain't What They Used to Be" – Mercer Ellington
"We Get Along" – Sharon Jones and the Dap-Kings
"II B.S." – Charles Mingus
"Rappin Ced" – Daveed Diggs
"Subterranean Homesick Blues" – Bob Dylan
"Check the Rhime" – A Tribe Called Quest
"Body and Soul" – Johnny Green
"Parting Ways" – Cody ChesnuTT
"Apple Tree" – Erykah Badu
"Space Maker" – Walter Norris
"Cristo Redentor" – Duke Pearson
"It's All Right" – Curtis Mayfield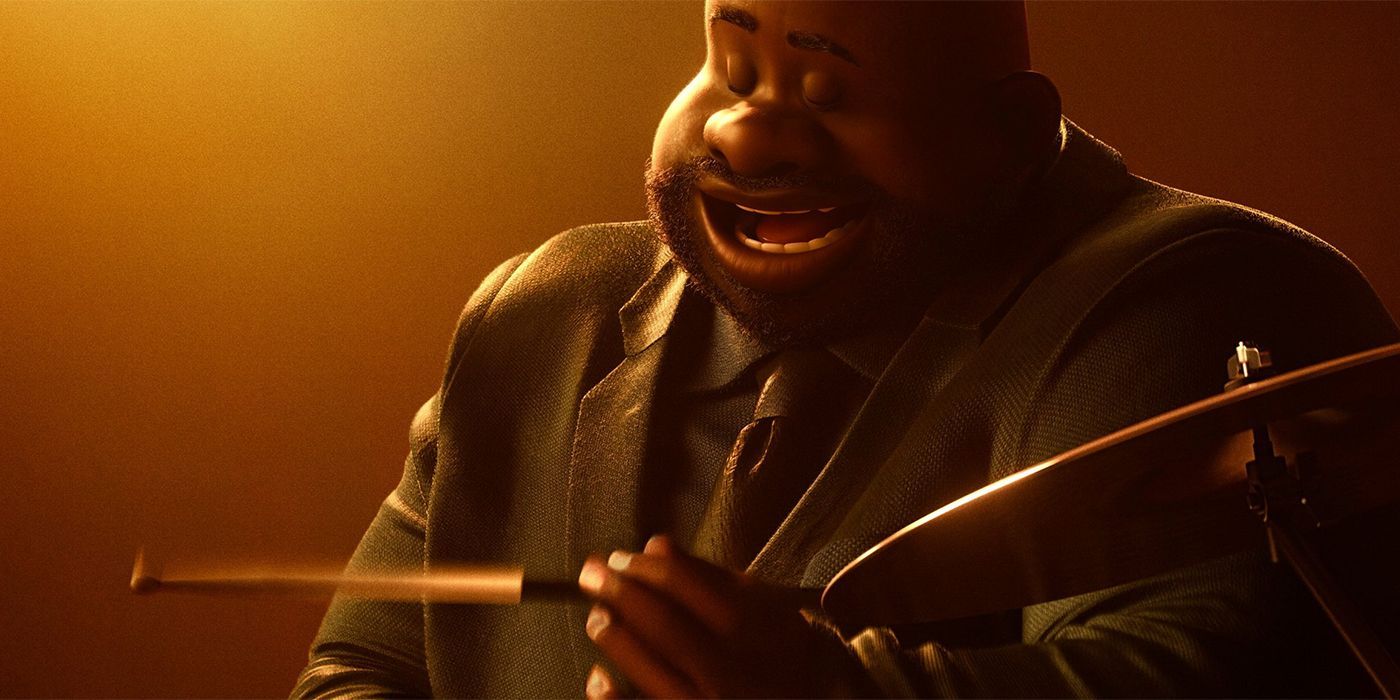 Soul begins with Mr. Gardner's middle school jazz band rehearsing a rendition of "Things Ain't What They Used to Be" by Duke Ellington's son, Mercer Ellington. The 2014 release "We Get Along" and jazz standard "II B.S." make appearances before Daveed Diggs' (Hamilton, Clipping) contribution "Rappin Ced" plays in Joe's "Hall of You." After running from You Seminar employees, 22 leads Joe to The Zone where they find Moonwind, whose ship plays the Dylan tune "Subterranean Homesick Blues" in keeping with his hippie aesthetic.
With the action moving to New York City, "Check the Rhime" from NYC's very own jazz rap pioneers A Tribe Called Quest helps to flesh out the environment, along with the standard "Body and Soul." Witten for the film, "Parting Ways" is the tune the busker plays as Joe and 22 arrive on the subway platform.
Coming from a foundational work of neo-soul, Erykah Badu's "Apple Tree" fits nicely in the track list. Jazz piano feature "Space Maker" is next, followed by the standard "Cristo Redentor." Finally, Curtis Mayfield's "It's All Right" takes us into the credits.
Next: Why Soul Feels More Like A Pixar Movie Than Onward