A new image from Don't Breathe 2 gives a first look at the return of Stephen Lang as Norman Nordstorm, the terrifying villain from the first film. Released in 2016, the original film premiered at SXSW and quickly became a sleeper hit. Made on a minuscule budget of just $10 million, Don't Breathe went on to gross over $157 million worldwide. Alongside Lang, the original film starred Jane Levy, Dylan Minnette, and Daniel Zovatto as a trio of young adults who break into Norman's house knowing that he is blind in the hopes of stealing large amounts of cash.
What they don't realize, though, is that Norman is highly skilled in protecting what's his and that he's also harboring a dark secret chained up in his basement. Levy's character Rocky is the only one to make it out alive at the end, but Lang is currently the only original castmember slated to return for the sequel. Original director Fede Álvarez isn't returning either, with screenwriter Rodo Sayagues taking over directing duties. Álvarez is still credited as a screenwriter on Don't Breathe 2, currently scheduled for release this August.
Related: Don't Breathe's Original Ending Was Much Darker
Although a trailer hasn't surfaced for the film yet, USA Today has a first look image at Lang's return in the film. In the photo, Norman seems to be sitting outside in the rain, wielding a hammer as he likely prepares to take on his next victim. Check out the full photo below: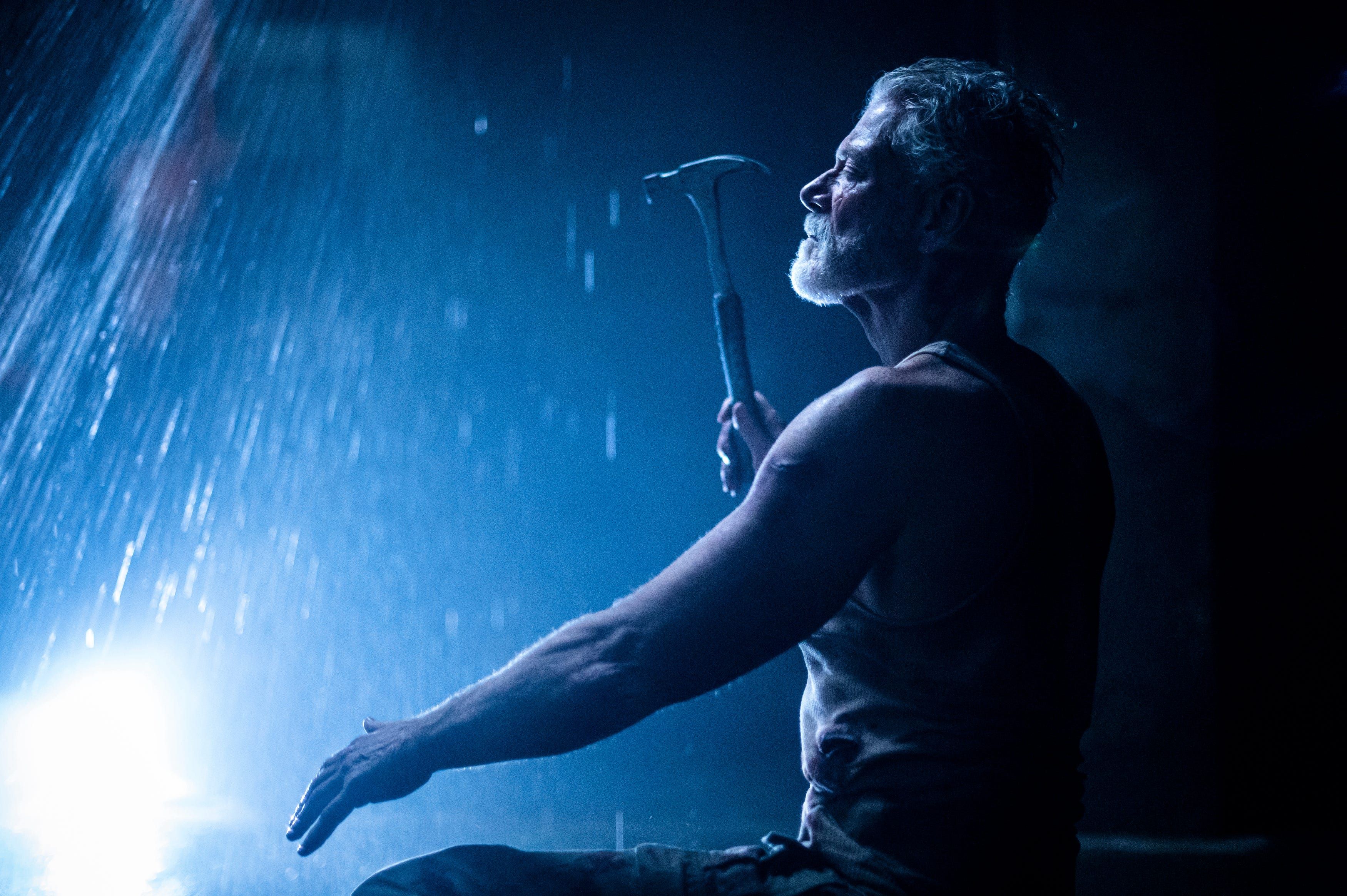 For Don't Breathe 2's story, it seems that Álvarez and Sayagues will be switching gears. The plot seems to be more of a revenge thriller, with Lang's Norman living as a recluse while taking care of a young girl orphaned by a house fire years earlier. When criminals kidnap the young girl, Norman goes on a quest for vengeance in the hopes of rescuing her. This plot certainly indicates that Don't Breath 2 will be switching gears. While the first film posited Norman as an anti-hero for the majority of its run, a third-act twist revealed that he was hiding a woman in his basement in the hopes of her providing a child for him that could replace his deceased daughter.
Don't Breathe 2 sounds like Norman will be in full protagonist mode, protecting the child he has raised after her being orphaned. Still, his past sins may catch up with him in interesting ways, as there's no telling if there's some sort of connection between the girl and those who take her from Norman. Don't Breathe 2 is one of the most anticipated horror releases of the summer and if it's anything like the wild ride of the original film, fans are in for a thrilling and bloody saga.
More: Avatar 2 Theory: How Stephen Lang's Quaritch Returns From The Dead
Source: USA Today