As Yara Zaya struggles to like New Orleans and trust Jovi Dufren as he heads back to work, many 90 Day Fiancé fans have been interested in his job. While Jovi has a cool underwater robotics job, not much is known about Yara's past. She met Jovi on a travel app and now is all set to be his wife on 90 Day Fiancé, but what work did she do in Ukraine? To set all rumors to rest, 90 Day Fiancé's Yara revealed her resume on Instagram.
While rumors suggest that not only are 90 Day Fiancé's Yara and Jovi married, but also have a baby girl, their on-screen story has been in jeopardy. During Jovi's introduction, fans saw him hinting at Yara using her first pregnancy as a ticket to America, and later on, showing he was not ready for marriage. Meanwhile, Yara criticized her new home, new city, and her mother-in-law, as her silly fights with Jovi soon became public, like the one at the furniture store. Still, 90 Day Fiancé's Yara revealing that Jovi abandoned her in Albania as he went off to work, leaving her to undergo her miscarriage surgery alone, came as a shock to many. Fans wondered why Yara still decided to start a new life with uncaring Jovi. But then again, they also saw him buying her the rug she wanted, and gifting her a brand new phone. The comparisons with another 90 Day Fiancé star "gold digger" Anfisa took over when Yara recited how she wanted "a million dollars, a penthouse worth 27 million dollars." At that point, TLC viewers wondered if Yara ever had a job of her own.
Related: 90 Day Fiancé: Everything To Know About Jovi Dufren, Yara's Boyfriend
With "Blogger" written in her Instagram bio, Yara has been in her content creation role since the 90 Day Fiancé season eight premiere. Not only has she posted stunning pictures of herself traveling the world, but she is also planning to sell off her clothes fans have come to love. One often comes across comments like, "Best dressed 90 day cast member," and, "Love your style," on Yara's page. But while Yara also gets her share of negative comments asking her to go back to Ukraine, a few come from 90 Day Fiancé fans genuinely interested in her back story. One such TLC viewer asked Yara, "Did you work prior to [meeting] Jovi? I love all your clothes and bags, you seem to be having fun."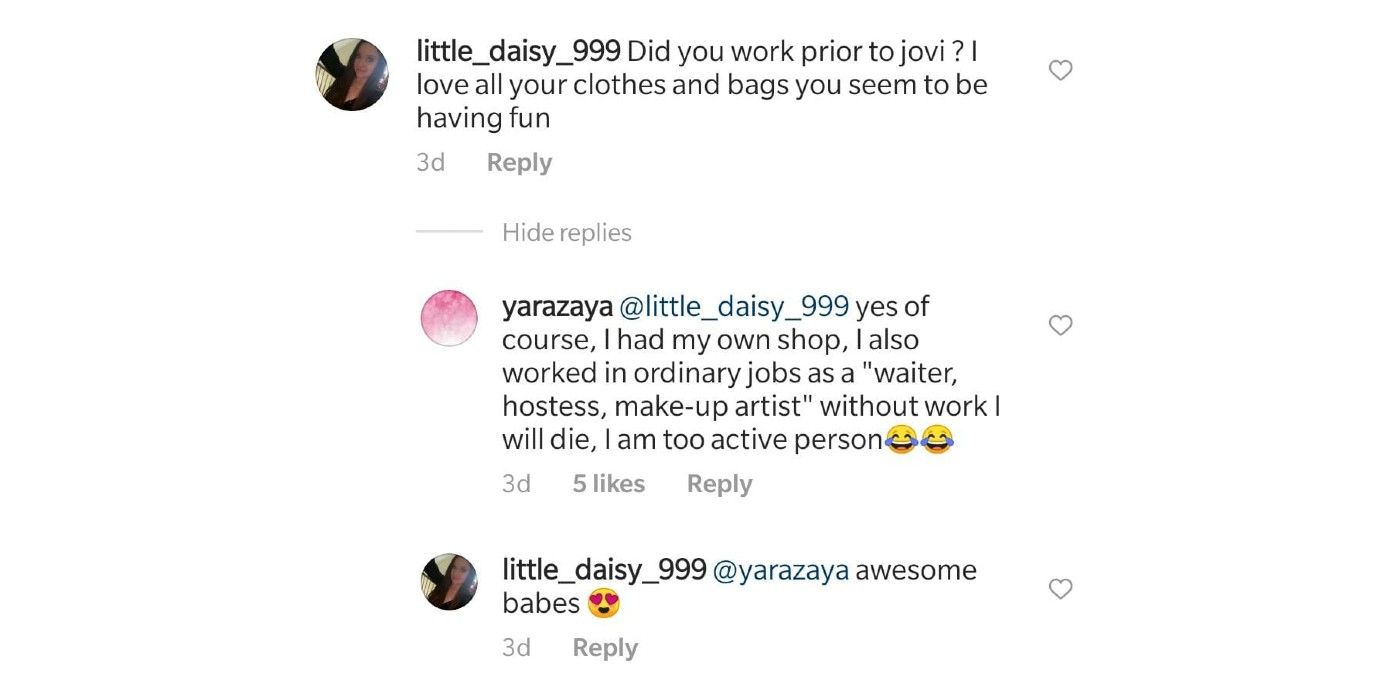 90 Day Fiancé's Yara replied to the question with, "Of course, I had my own shop, I also worked in ordinary jobs as a 'waiter, hostess, make-up artist'" Yara then joked about how without work, she "will die," as she is too much of an "active person."
That explains where Yara gets her good taste in fashion, and her right to call out her 90 Day Fiancé boyfriend Jovi on his "swamp taste," doesn't it? But with co-star Brandon Gibb's fiancé Julia Trubkina also being a fashion designer, TLC fans might expect to see some competition or, perhaps, a collab soon?
Next: 90 Day Fiancé: Yara's IG Pic Strongly Suggests She Has A Kid With Jovi
90 Day Fiancé season 8 airs Mondays at 8 pm ET on TLC.
Source: Yara Zaya/Instagram