Many 90 Day Fiancé: Happily Ever After? fans would remember that Larissa Dos Santos Lima was arrested by ICE (U.S. Immigration and Customs Enforcement) in September. Although the Brazilian native got released within a few hours of detention, the official document stated that she got placed in "removal proceedings." The final decision on her immigration process was set to be taken in the upcoming hearing. It looks like the hearing went well, and the former 90 Day Fiancé star Larissa is happy to share the news in a cryptic message with her Instagram followers.
After Larissa got fired by TLC for doing a racy show for Camsoda, she planned to move out of Las Vegas and spend time with her then-boyfriend Eric Nicholas' family in Colorado Springs. But, just before she was supposed to leave, ICE officers showed up at her doorstep and arrested her. Her Brazilian friend, Carmen Nys, informed Larissa's fans about the arrest on IG and asked them to pray for her. Initially, some 90 Day Fiancé viewers thought that it was a publicity stunt. However, the official documents retrieved from Homeland Security proved that she was indeed detained. Her lawyers were able to get her out, but Larissa's name was placed in removal proceedings. A final hearing was supposed to happen, which would ultimately decide whether she needed to get deported.
Related: 90 Day Fiancé: Fans Catch Deavan Clegg & Her BF Topher Lying On Camera
It looks like Larissa's American dream is not over, and she can continue to stay in the United States. She recently shared a cryptic message on her Instagram, suggesting good news related to her immigration process. Without revealing any inside details, the former TLC star wrote, "A immigration miracle just happened. Thank you Goooooooooooooood." She also added Katy Perry's "firework" song to set a mood for her mysterious message. Check out the snapshot of her Instagram story below: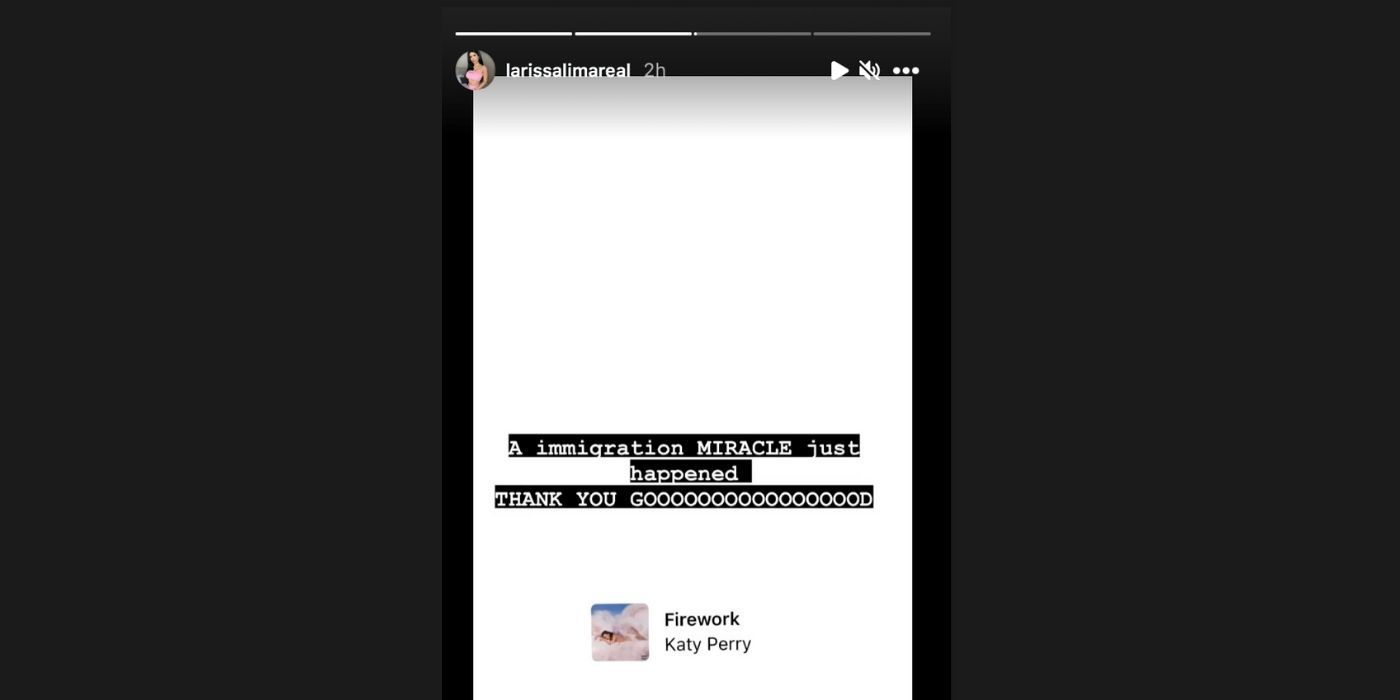 Her ex-boyfriend Eric also shared an IG story to congratulate her, which was reshared by Larissa. He shared a cuddly picture with her and wrote, "Congrat U Long Lations on your immigration hearing Doll!" The Colorado Springs native has also kept the message vague so that the inside details don't get out. Here's a snapshot of his message: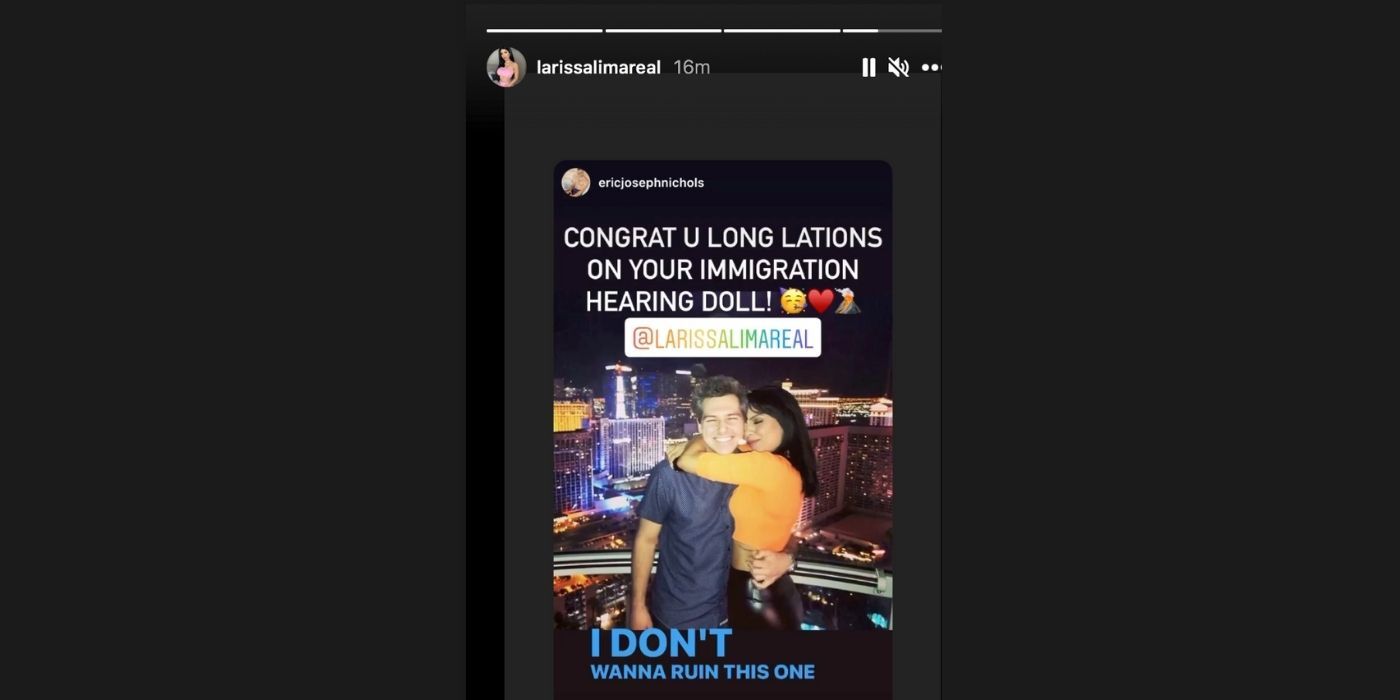 Earlier, some 90 Day Fiancé fans suspected that Larissa's ex-husband Colt Johnson and mother-in-law Debbie Johnson pulled some strings to get her deported. Perhaps, Larissa and Eric are now being cautious and not sharing too much information in the public domain. Nonetheless, it's great to see that the 90 Day Fiancé: Happily Ever After? alum Larissa can continue to live her American dream.
Next: 90 Day Fiancé: Skinny Angela Deem Posts Jaw-Dropping Christmas Look
Source: Larissa Dos Santos Lima/Instagram